The Motto No. 42 is about young me. Twenty-one years old. Black and bi-racial. With a passion for hip hop, and trying to find his way. I've toyed with the idea of writing an autobio/memoir many times — too many times. Never caught a groove. But I do have some reflections saved in the cloud. With the wife on editing duties, and with her "encouragement" 😂, I'm sharing. This shit is not easy. Hope you enjoy.
---
NEW YORK CITY [1992] — Rock And Soul record store was on 7th Avenue and 37th Street, right across from Macy's. And as I discovered (by talking to clerks and from eavesdropping on customers), it was on Fridays that the top local DJs — Funkmaster Flex, Kid Capri, Clark Kent ⬇️ would visit to get their hands on fresh new wax.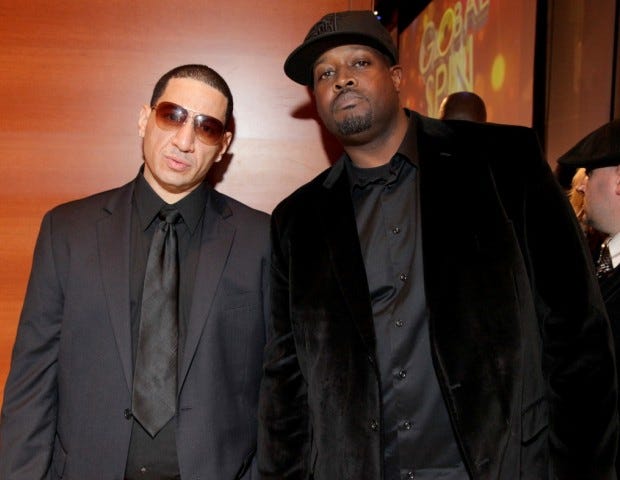 In March 1992, I wanted to purchase the most popular new record out: Pete Rock and CL Smooth's "They Reminisce Over You (T.R.O.Y)."
Produced by Peter "Pete Rock" Phillips, "T.R.O.Y" was anchored by lush samples from Los Angeles saxophonist Tom Scott. It wasn't just the story of CL's New Rochelle upbringing, but a tribute to Heavy D and The Boyz's Troy "Trouble T-Roy" Dixon, who had died tragically two years before. I had to own this song.
I'd just turned 21, but I never went to nightclubs. I listened to the radio religiously from my dirty-clothes-laying-everywhere, roach-infested bedroom in Woodside, Queens. I audiotaped every rap show I knew of. This was before the launch of New York's first all-day hip hop station, Hot 97. I had a Panasonic boombox with two cassette decks and I'd wrap my antenna with aluminum foil and point it to the left of my open window to improve reception. This was to pick up Andre "Doctor Dre" Brown's Operating Room show on Monday nights from Long Island's WBAU 90.3 FM. Dre had a classic interview with BDP in 1987 during the beef between MC Shan and The Juice Crew.
Based at Adelphi University, Long Island's WBAU is where I discovered the Spectrum City show hosted by "Mr. Bill" Stephney, Chucky D and MC/DJ Flavor Flav. It's where I heard Beastie Boys and Run DMC exclusives.
⤴️From left: Chuck D '84, Keith Schocklee, Bill Stephney and Andre "Dr. Dre" Brown at WBAU © Harry Allen
I stayed up til 4 a.m. to hear The Awesome 2 on New Jersey's 105.9 WHBI. Connoisseurs of cool Special K and Teddy Ted broke Audio Two's 1988 "Top Billin'" and Ed OG and the Bulldog's 1991 "Be A Father To Your Child." Plus K and Ted always had the latest from Big Daddy Kane, Boogie Down Productions and Nice & Smooth.
There were of course the underground legends Stretch Armstrong and Bobbito of Columbia University's WKCR. And I also enjoyed WNYU's Rap This show, with P-Fine. I was so excited when he got LL Cool J on the show in 1986.
Also: P-Fine's interview question is featured at the end of Public Enemy's "Fight The Power." You hear him at the close of 1990's Fear Of A Black Planet — "Talk to me about the future of Public Enemy"
I loved WHCR's Hardcore Righteousness show with Lamel Watson. He was featured on Wu-Tang Clan's Enter The Wu-Tang: 36 Chambers, sarcastically asking one of his City College callers, "Wu-Tang again?"
All this to say, I was a true hermit. I didn't want to socialize with strangers. The discovery of new music was one of the few things I depended on for true happiness. I hated William Cullen Bryant High School because the Greek kids who were the school athletes were treated like kings, and us folks of color were the outsiders. I knew the next step was college but I really didn't want to go — or get a job. I chose LaGuardia Community College because it was close to the crib, and I'd read that Run of Run-DMC had briefly attended, to study mortuary science. Somehow I saw this as a good sign.
I ended up loving LaGuardia. A journalism professor, Peter Rondinone complimented one of my papers by saying, "You write well" and that gave me a rush of confidence. I also got bold enough to approach women. I befriended a pretty brown girl named Gina on the platonic tip, and I think our conversations helped me get over my fears of feelin' inadequate. 'Cause don't get it twisted, I was still a rap nerd.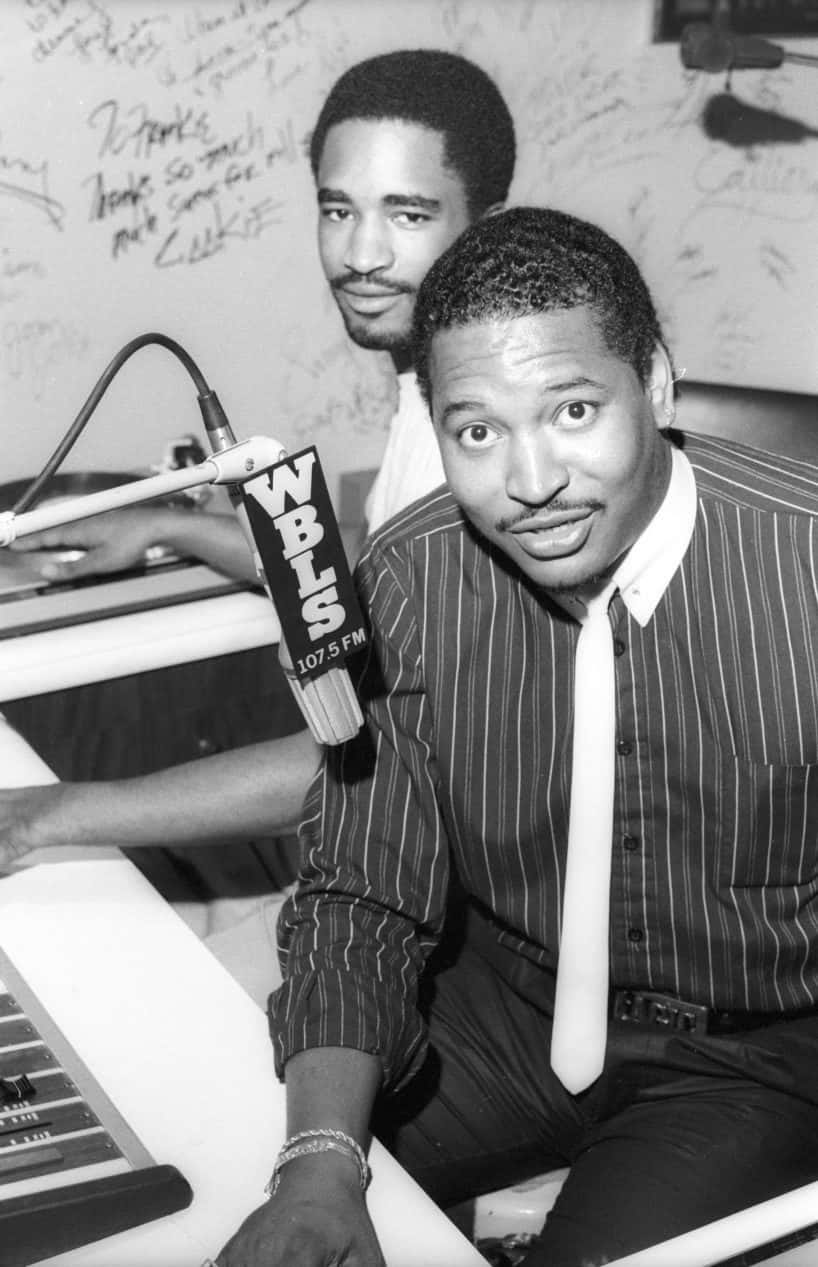 I used to practice how fast I could shuffle the radio dial from 98.7 to 107.5 and from 107.5 to 98.7. If I heard something I never heard before, I immediately hit RECORD. The song might be good. If it was a song I'd taped before, I sped down to the other station to make sure I wasn't missing something new and fresh. These weekend battles were heavyweight championship bouts: 98.7 Kiss FM's DJ Chuck Chillout ⤴️ and Red Alert ⤴️ would go against 107.5 WBLS' Rap Attack show featuring, as Biggie recalls on "Juicy," Mr. Magic and Marley Marl. And like the Notorious one said, I too had the Word Up! magazine posters taped on my wall ⬇️
Back at Rock And Soul, the record store clerks weren't havin' my nosy enthusiasm. They literally looked through me. I didn't know it at the time, but I was a nobody, and they were saving their precious copies of new songs for the big dawgs.
There was though an Indian kid who worked at Rock And Soul who called himself Scian Smooth. He was a part-time DJ, and told me the records I wanted were "promo only," "white labels," and you had to go through a record label to get them. Scian and I became friends. I remember going over his crib and marveling at his vinyl collection. He had multiple copies of everything new. Dude had like seven copies of Diamond D's 1992 debut, Stunts, Blunts and Hip Hop.
Scian took me up to Elektra Records in the heart of Rockefeller Center. I recognized the Rock Center waterfall that my brothers and I used to visit with Rigoberto Solis, my grandfather on my mother's side. I was so excited to walk into a record company. To even sit in the lobby. I could see the employees milling around the office. It looked like the coolest place on Earth.
I was introduced by Scian to a promotion guy named Fred Jackson. I pretended I was a college radio DJ at LaGuardia Community College. Fred knew I was lying, but saw I was a polite kid, and gave me the "T.R.O.Y." single. It was a white label in a black sleeve that read "for promotional use only."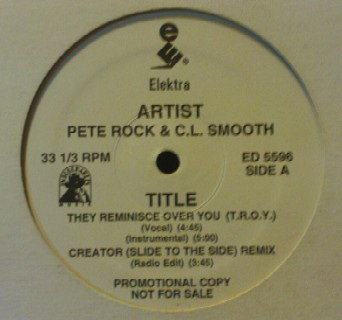 I couldn't wait to jam it in my JanSport. Fred also gave me a book — xeroxed pages bound together — of all the college radio contacts at all of the labels. It was one of the best presents I've ever received. Armed and dangerous, I was determined to own every song. All access to all music. I've never lost that passion.
---
@elliottwilson tweets | @elliottwilson IG | follow HRDlist
a danyelliott production
Danyel Smith + Elliott Wilson