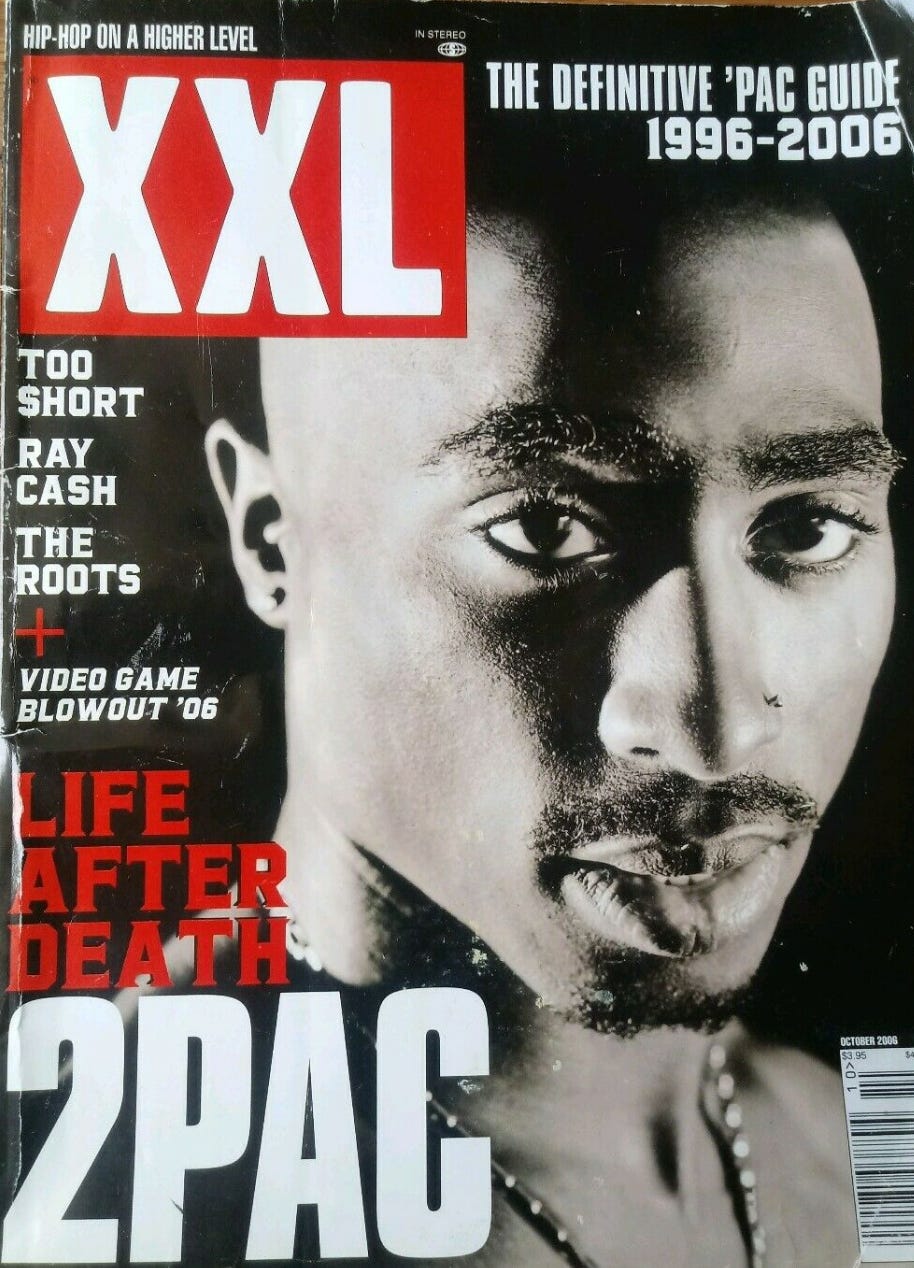 A key component of the YN era at XXL: in commemoration of his Sept. 13, 1996 passing, I often dedicated the October issue (released in September) to Tupac Shakur. The formula always succeeded, but in October 2006, when we faced a li'l backlash (for leaning on Pac, or not giving others an opportunity for a cover), I answered our critics. Were the posthumous Tupac covers a celebration — or exploitation? My thoughts, fresh from that time, are below 👇🏾. Reading my own words today, fourteen years after I originally typed it out, I stand by the majority of what I said. Even if my bravado was a bit cringeworthy and borderline disrespectful. I wasn't always right, but I was always real. Just my thoughts at the time. Let me know your thoughts today.
---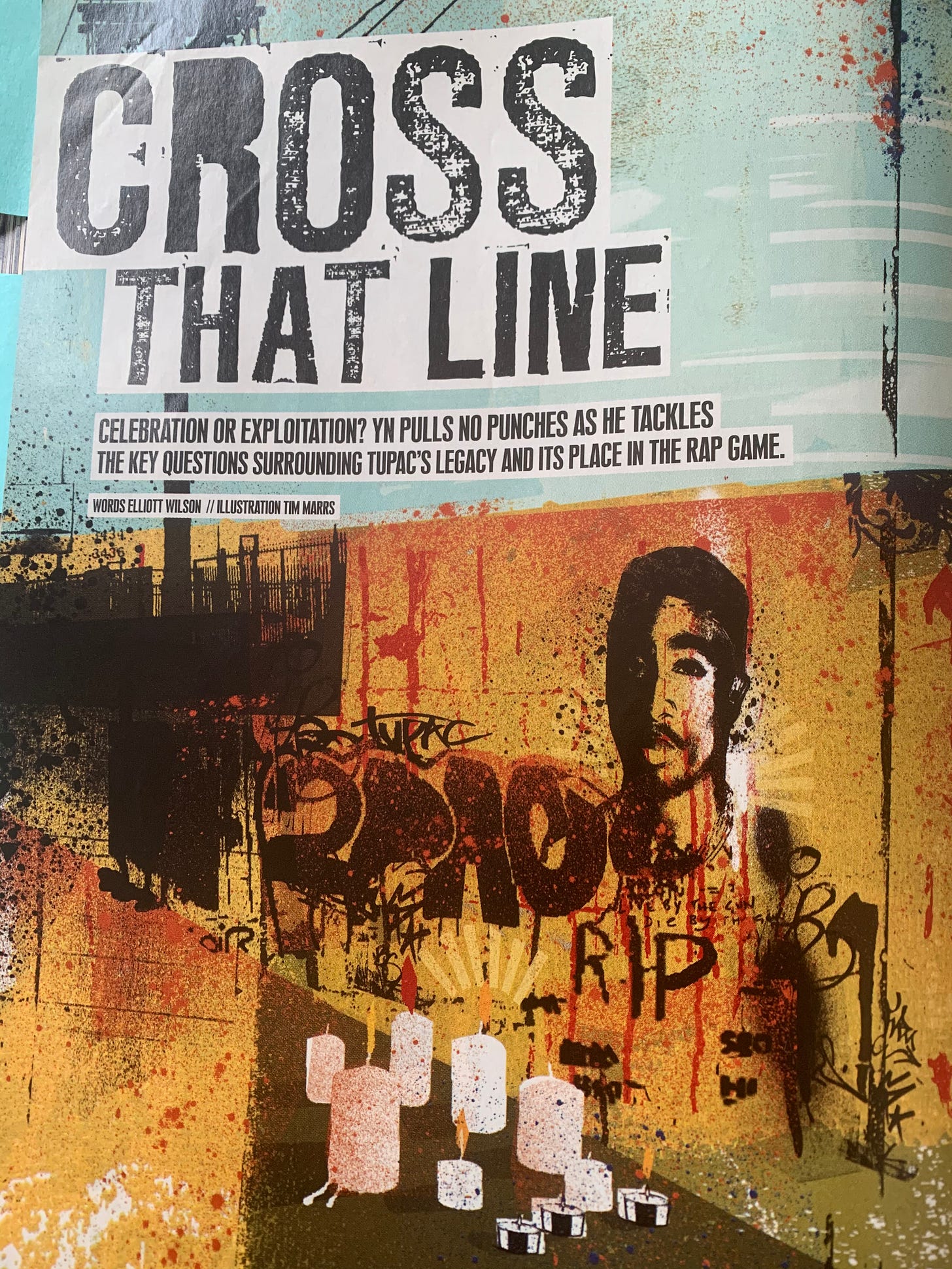 I know the question y'all asking yourselves: Why did XXL put Tupac on the cover again? Well, it's the 10th year of the anniversary of his death, stupid. And our Pac covers have always done their numbers. I even sold one with his mom, Afeni, on the front a few years back. My bosses said it couldn't be done, but y'all proved me right. You got to give the people what they want.
Truth be told, there's just not enough true rap stars around these days—artists who have touched the world the way Pac has. I was shocked when my staff was so overwhelmingly supportive of doing this issue. They seemed to feel it would be almost disrespectful not to acknowledge the man who remains the most influential person in hip-hop culture a full decade after he left us. Plus, the past 10 years of his career achievements needed to be documented.
Now that you've enjoyed our tantalizing timeline, it's time for da boss man to face the music. So I'll address 10 topics that have come up in discussions around the XXL offices while we've been slaving away trying to finish this thing. Thank God for granting me this moment of clarity. How long will YN mourn him? Until y'all tell me to stop.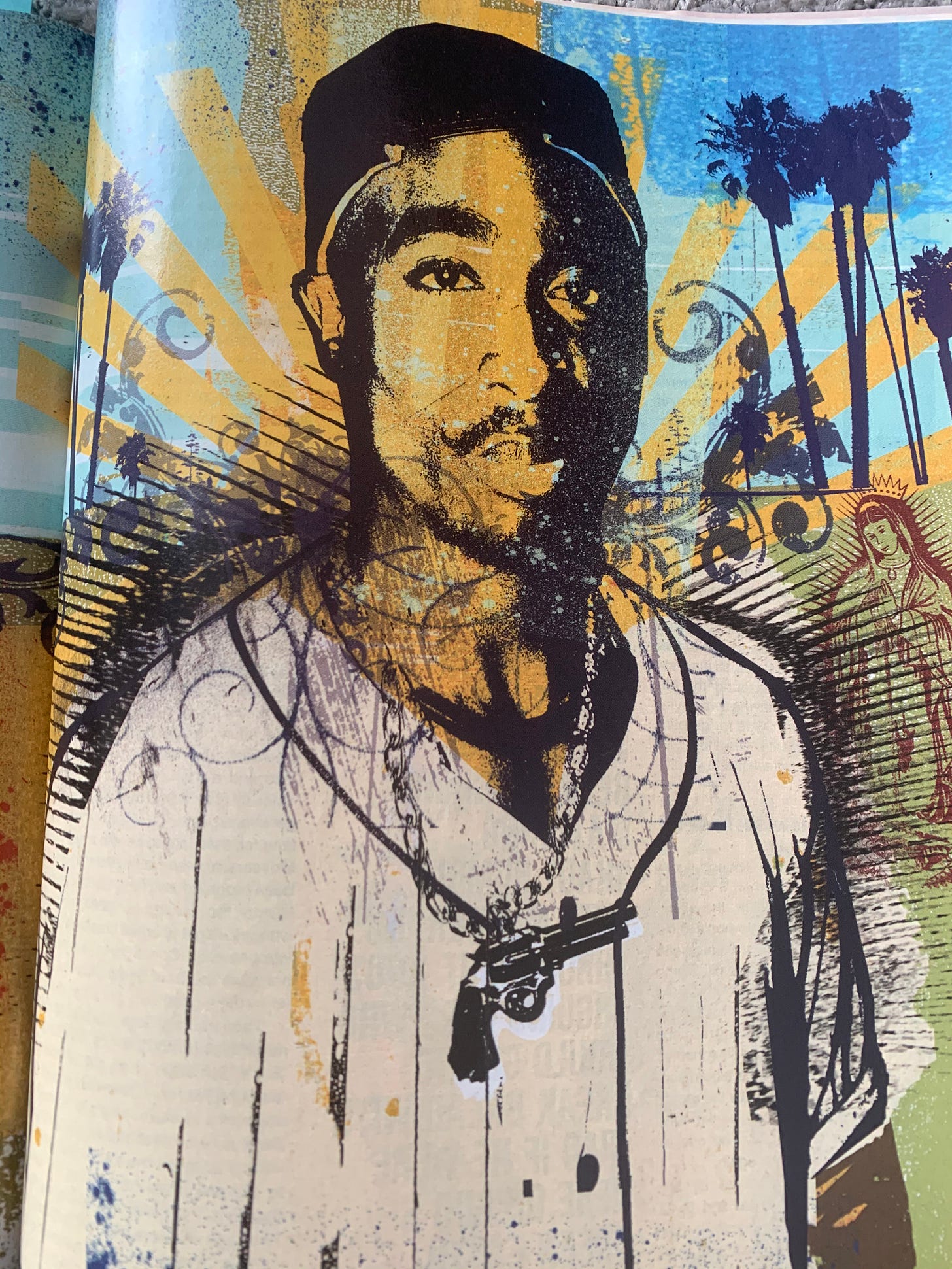 1. How exactly did Pac become the hip hop nation's choice for GOAT?
Well, it starts with Makaveli. Though it was body-slammed by critics when it dropped two months after Pac's death, the album is a classic that captures hip-hop's most controversial star at his most volatile and engaging. From the fiery venom of "Bomb First (My Second Reply)" and "Against All Odds" to the playful bravado of "Toss It Up" and "Just Like Daddy" to the riveting religious overtones of "Hail Mary" and "Blasphemy," Pac's most potent platter is the album your favorite MC can't live without. It's the record that rapper is playing in the background while he's chillin' at the crib. The one he cops over and over and over again.
This album is even beloved by two artists who get dissed on it: Nas and Jay-Z. In fairness to the New York giants, it must be noted that Pac's death (and that of his arch rival, the Notorious B.I.G., six months later) was a determining factor in allowing them to embrace the memory of their former antagonist—all is forgiven in death, and it should be. Ironically, five years later, it would be Nas and Jay-Z engaging in rap's biggest battle since Pac and Big and all the East-West nonsense—complete with claims of swagger-jacking and sleeping with the enemy's woman. And how twisted was it in 2002 when Jay-Z remade a song from an album that targeted him to announce his then-budding relationship with his real life squeeze, Beyonce Knowles? Pac's original "Me and My Girlfriend" was just a metaphor for a gun—a concept that Nas himself mastered earlier in 1996's "I Gave You Power".
Speaking of power, it's the rappers that emerged in the late 90s and the new millennium that put Pac in the top position. His peers anointed him the king, and the fans cosigned. Example: Go see Jay-Z live and watch the dope boys and girls go crazy when Jigga Man lets his DJ drop the needle on a Pac classic. That gets more cheers than the main attraction.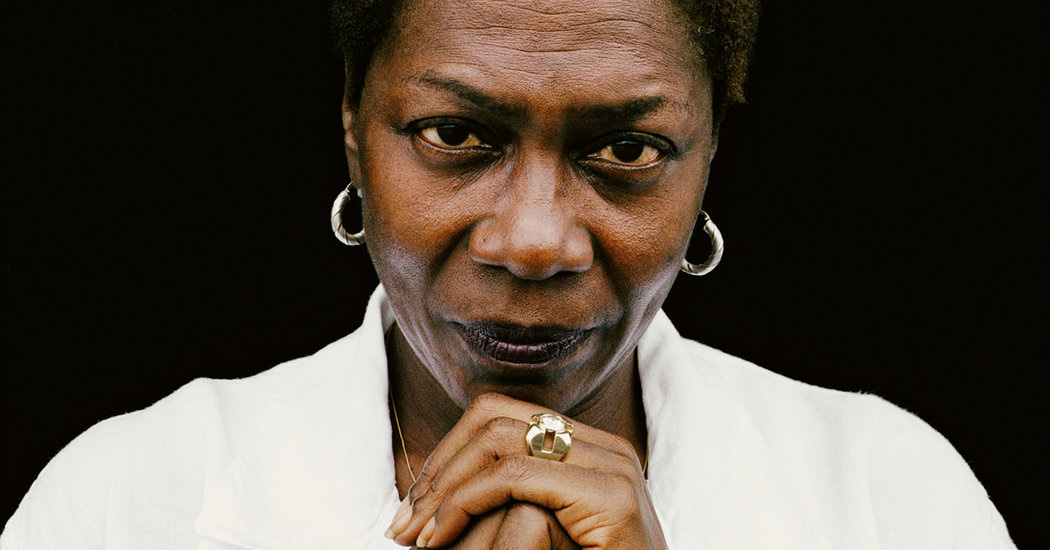 2. With Pac dead and gone, are we allowed to question the motives and moves of his dear mama?
It's a fact proven in rap: Mothers become celebrities when their sons pass away. After a legal tussle with Suge Knight, Afeni is the official boss lady. Simply put, she's in charge of the legacy. What projects will come out and which won't? Who gets permission to use which vocals on what song? She's got the answers, the one and only master of the masters. Kinda ironic, since Pac and ma dukes didn't always have the best relationship. She wasn't always there for him as a mother, but now she reaps the benefits of her son's recording career—something that, before he died, she seemingly had little to do with. Where was she when her baby boy was signing his life away to Death Row Records? An ass-whuppin' by the one who gave him that life in the first place might have been needed back then.
To give credit where it's due, Afeni has put together a couple of quality projects and created a respectable foundation and arts center, all in her son's name. Like all parents, her intentions seem to be in the right place. Still, the decision to have Eminem produce an entire album of her son's material? That's a never-forgive action.
3. Isn't there just way too much posthumous Pac material?
Yup. And bet your bottom dollar, most of it ain't worth your hard-earned cash. Only the most bored of rap fans or the most fanatical of Pac fanatics would really take the time to listen to double-disc debacles like 1997's R U Still Down? (Remember Me) or '01's Until The End Of Time in their entirety. And honestly, couldn't someone have talked some sense into Afeni before she decided to drop a spoken word album based on Pac's poetry? Oy vay.
4. Are there any true posthumous Pac songs worth listening to?
You gotta have a hole in your soul if the "The Realest Killaz" doesn't get you amped. Producer Red Spyda's sinister pairing of Pac and a then-emerging 50 Cent was a vicious volley in 50's beef with Ja Rule—and packed an extra punch since so many rap fans felt that Ja had been biting Pac's style for years. You know the late star would've have been laughing watching Shady rumble with Murder Inc. throughout 2003, arguing over who would get to break bread with Pac if he were here on God's green earth. (The real answer? The Boot Camp Clik. They actually knew the nigga.)
Then there's Trick Daddy. While they never met (to the best of my knowledge), Pac's "Still Ballin" (from 2002's Better Dayz) featuring the Miami mack has enough sonic chemistry to make it feel like it could have been a real collaboration. Trick loves the kids. Pac loved the thugs. So it's not hard to imagine these two raising hell down in the Sunshine State. The after party at Club Rolexx would have been off the chain.
Still Pac's most poignant cry from the grave might just be "Changes" (from 1998's Greatest Hits). Despite the cheesy Bruce Hornsby sample, this previously unreleased gem proves that no amount of overproduced studio magic can match the quality of material that Pac actually saw to completion. That's just the way it is.
5. Is it wrong for Pac's former enemies to record songs with his vocals?
Yeah. But actually, Nas is the only culprit here. Don't get me wrong, "Thugz Mansion" is a good song. But it's hard to justify making amends (by way of making music that will surely make money) when the other person isn't around. I know Nas insists that things between the two were copacetic in Pac's last days, and I'm sure Afeni asked him really nicely to get down. But come on, Esco, just say no.
6. Why do folks hold on to hope that Pac is still alive?
Guess it's like a disgruntled ex-girlfriend. Fans never got closure. Pac got shot, and we assumed he would survive just like he did before. He seemed bulletproof. Then even though it played out over seven days, his death seemed sudden. Pronounced dead. There was no wake, no funeral, no parade through the hood like the other guy got. Plus, Pac talked about death so much when he was alive, who could believe he would ever really be gone?
I thought the Afeni issue we did three years ago would end some of the resurrection of the talk. You know, seven years since he died, photos of the grave, she buried the ashes—he's not coming back. The crazy thing is, even though most of us know he's really dead, somehow it's like no one would really be totally shocked if dude just popped up all of a sudden. I mean, his story can't get much harder to believe than it already is. And if he did come back, things might actually start to get interesting in hip-hop again.
7. What's Pac's best posthumous album?
Despite my negative feelings regarding Eminem's production work on '04's Loyal To The Game, Mr. Mathers is largely responsible for the success of the previous year's Tupac: Resurrection soundtrack. Clearly, Pac's most digestible work, it cleverly matches rare, well-selected Pac recordings with expertly constructed new productions. Em even had the balls to bring Big and Pac together on the remarkable "Runnin' (Dying To Live)".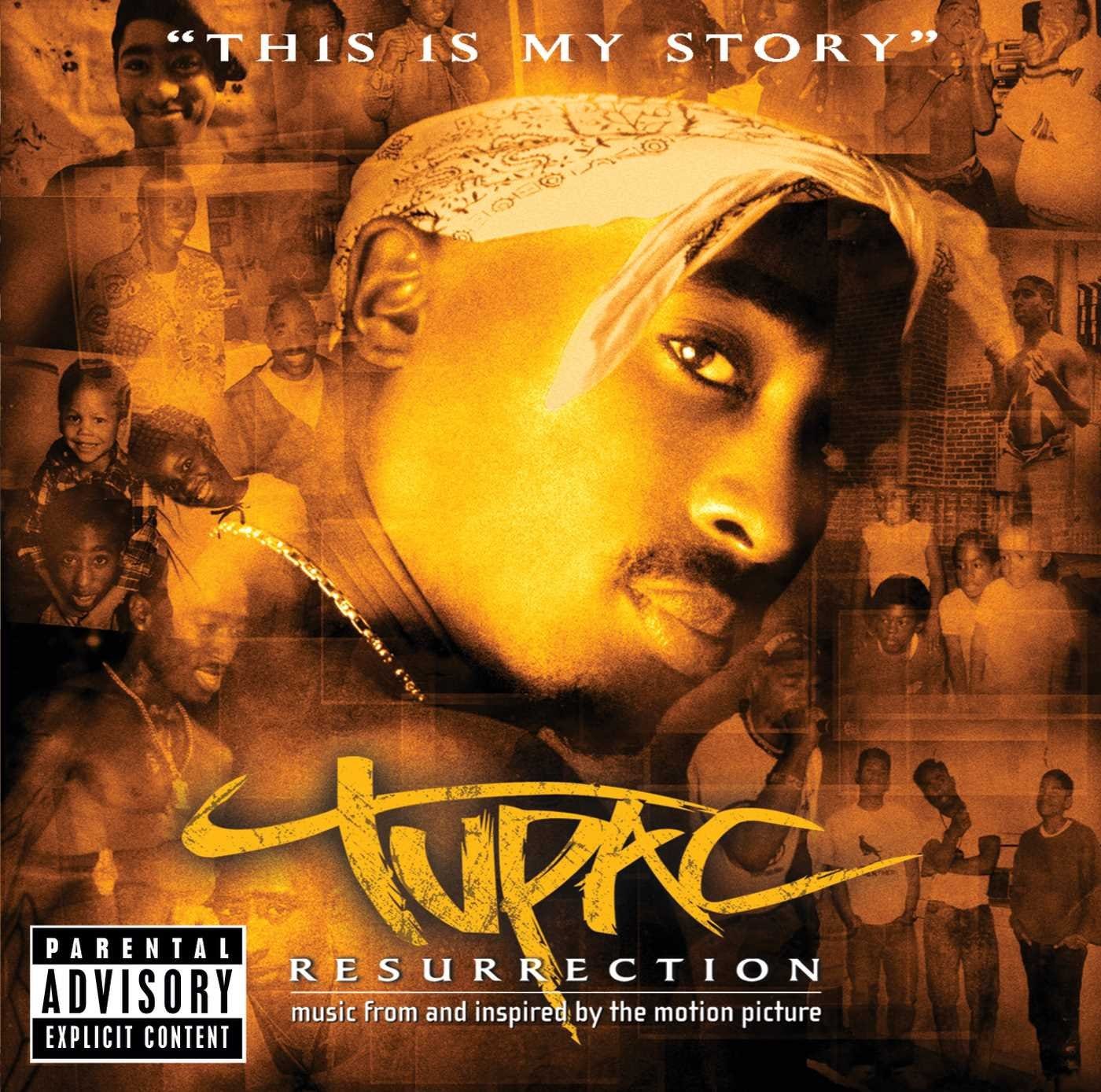 8. What's Pac's best posthumous movie?
Best album equals best movie. The Tupac: Resurrection documentary deserved its Academy Award nomination. (In fact, it deserved to win. What the fuck is Born Into Brothels?) I still can't get over how they used Tupac's interview quotes to narrate the film, and all the amazing archived footage. Who knew about the Tony Danza connection? And Ice-T and Pac singing together on a Roseanne Barr show? Priceless.
9. What's the best posthumous book about Pac?
That's easy. Got to go with Tupac Shakur, by the editors of VIBE. Some of the greatest magazine interviews ever culled together in one tome. It's a New York Times best seller that has gone through 11 pressings. If that joint's not on your bookshelf, you should be ashamed of yourself.
10. Finally the big question: Are we all guilty of beating Tupac's legacy to death?
Probably. But you know what? Like Silkk and Mystikal said, it ain't our fault. The situation is beyond our control. It's up to the rap artists of today to show us another way. To take this culture and move it forward. No one could ever truly replace Pac (or Big, for that matter), so we've got to move past the tired "Top Five Dead Or Alive" arguments. How bout a handful of actual living, breathing successful MCs? How bout cats intelligent enough to learn from the past, but innovative enough to build a new future? How bout someone who can make a connection with us that lasts longer than their latest mixtape freestyle?
We hang on to Pac because, though the current rap game has some wonderful wordsmiths and charismatic hitmakers, today's artists just don't have it. I don't even know what the fuck it is, but they don't got that shit.
Record label A&Rs have spent the last 10 years running all over the country looking for the next Pac. Might as well pass along that frequent-flier mileage—it ain't gonna happen. Record label time and money would be be better spent grooming a new breed, finding artists who don't want to be a carbon copy of anybody resting in heaven. After all, there was never anyone like Pac before Pac. Holler, if ya hear me!
---
@elliottwilson tweets | @elliottwilson IG | follow HRDlist
a danyelliott production
Danyel Smith + Elliott Wilson